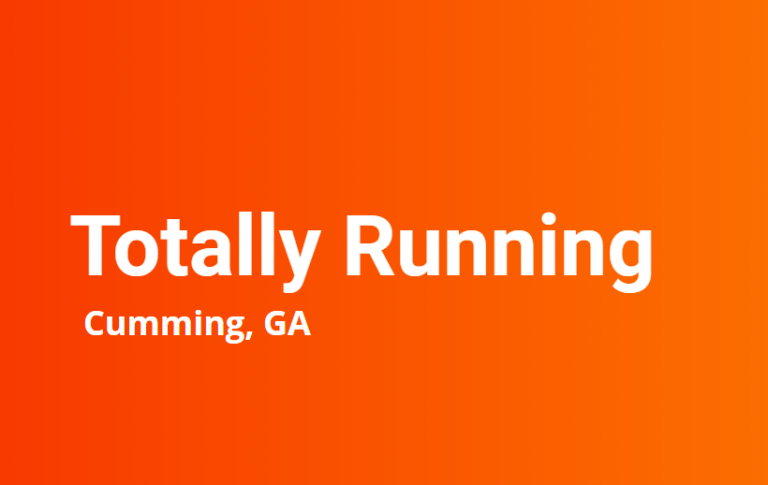 Totally Running is a gem in Georgia that exudes passion in the running community. Started in 2012, owner Kim Hall completed 2 marathons in that same year and began putting on fun and competitive events each year. But it doesn't stop there – Totally Running also gets to the roots of running by providing a storefront in Cumming, GA for the community. The store gives runners an opportunity to get a proper shoe fitting and analysis done on their running form. If you're serious about running, you would know how important a shoe fitting really is, especially for beginners. 

Throughout the year, Totally Running puts on three flagship events:

In the Fall, the Tryptophan happens just before Thanksgiving and offers a 5K, 10K, and Half-Marathon starting from Fowler Park. The court is flat and runs around the beloved Big Creek Greenway.

In the Spring, you have another unique run that caters to both the competitive distance runners and the fun short distance runners – The Cupcake Road race offers a 15K and 5K and cupcakes for all runners after the race!

During the Summer season, you also get a variety of distance runs at the We The Runners Run with a 5K, 10K, and 15K also starting from Fowler Park.

At each race you get a really cool shirt, chip timing, a special finisher's medal to take home, an unforgettable experience, (possibly a new PR), and best of all – you get the opportunity to be part of a cause the race supports. When you run the race and wear your shirt proudly, you also would have supported military soldiers with TBI/PTSD, Children's Healthcare, or Homeless families.

What we love most about Totally Running is how intertwined the company is with the industry and the community. From looking at your feet and how you run to giving you an experience to be part of that also gives back to the Community. You really can't get better than that.

If you just started out running, Totally Running is the place to start your journey. If you're training for your next Marathon, Totally Running has perfect training opportunities and the supplies/support you need along the way. And if you just want to have fun and be part of something awesome in your community, Totally Running has something for you too.